Nearly half of American adults have high blood pressure, according to the American Heart Association. Unfortunately, many of them are unaware they have it or of the damage that it can cause. High blood pressure is often called "the silent killer", because it usually has no symptoms. Left untreated, high blood pressure leads to possible heart attack, stroke, and other health problems.
Checking your blood pressure regularly is necessary to avoid these risks. A healthy diet and lifestyle go a long way to keeping your blood pressure in the normal range, but even the healthiest people can be affected. If your blood pressure is regularly above 120/80 you should pay attention, and above 130/90 is considered high blood pressure. Blood pressure over 180/120 is considered a hypertensive crisis and needs immediate medical attention.
Everyone should commit to keeping blood pressure in a healthy range. This includes a healthy lifestyle and possibly herbs that help keep blood pressure low. Sour Tea, made with Hibiscus sabdariffa, can be a good component of your plan to avoid high blood pressure or bring down blood pressure that is already too high.
Related: 10 Medical Home Emergencies and How to Treat Them
What Is Sour Tea?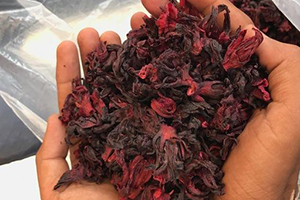 The dried hibiscus flower is used to produce hibiscus tea, also known as sour tea. The flavor of is tart and fruity, and either hot or cold is delicious.
You can sweeten it with a little sugar, maple syrup, stevia, agave or other natural sweetener, if you need to reduce the tartness.
Whether you don't like the hibiscus tea flavor, you can also use a herbal blend containing hibiscus. I enjoy a mix of flavors of hibiscus, rose hips, peach and other fruit. It is mild, mildly mild, and slightly tart. The mix is rich in antioxidants, vitamin C and anti-inflammatory agents.
Related: All-Natural, Home Remedies for High Blood Pressure
Where Is the Evidence of Hibiscus Tea Benefits?
A scientific study published in the Journal of Nutrition has shown that three cups of hibiscus tea per day lowers blood pressure. Participants drinking the tea for six weeks saw blood pressure decrease equivalent to a popular blood pressure drug.
While hibiscus tea alone may not be sufficient for severe hypertension cases, it can be a solution for patients with mild blood pressure elevations. These can be used in combination with other medicines or medications for patients who need a significant decrease in blood pressure. Consult with your doctor to ask advice.
Other Health Benefits of Hibiscus Tea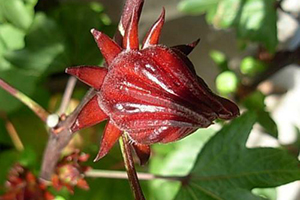 Scientific evidence suggests that Hibiscus tea has additional health benefits, particularly for the heart and liver. It is fantastic for diabetics and in fat metabolism.
Here are a few of Hibiscus Tea's reported benefits:
Hibiscus tea helps lower blood pressure
It is packed with antioxidants that prevent free radical damage to the cells
Lowers LDL cholesterol and triglycerides, known factors in heart disease
Promotes a healthy liver and helps in detoxification
Promotes weight loss
May reduce the growth and spread of cancer cells
Hibiscus tea has antibacterial and antiviral effects
The tea is calming and helps reduce depression and anxiety
Improves digestion
Boosts the immune system
Helps the skin heal.
Side Effects of Hibiscus Tea
Hibiscus tea is caffeine free and with no concerns you can drink as much as you want. The best reason to drink Hibiscus Tea in my opinion is the delicious and refreshing taste. The health benefits are a superb bonus.
How to Make Hibiscus Tea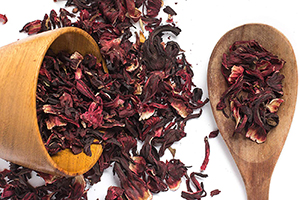 I use 1⁄2 cup of dried hibiscus petals or 2 cups of loosely wrapped fresh petals to make a pitcher of Hibiscus Tea. Bring 2 quarters of water to a boil, turn off the heat and add the petals of the hibiscus.
Let the tea steep for 10 to 15 minutes. Strain the tea, sweeten and drink hot or iced as desired.
For 1 cup of Hibiscus Tea, brew 2 teaspoons of dried hibiscus petals in 8 ounces of boiling water. Steep 5 minutes, sit and enjoy. Longer steep periods produce a more intense flavor.
Most people love adding a stick of cinnamon to the tea as it brews. I like a squeeze of lemon or lime, and a few mint leaves sometimes.
Related: 16 Free Alternative Pain Meds
Grow Your Own Hibiscus
Hibiscus shrubs grow in USDA Zones 4 through 11. They prefer warm weather and can survive only a few varieties in the colder zones. They can be grown indoors too, though. There are over 200 species of hibiscus but the type that has been studied is Hibiscus sabdariffa.
Once the flowers are freshly opened, pick the flowers in the morning to collect hibiscus petals for use in Hibiscus Tea. Extract the petals from the rest of the flower and use the fresh petals to make tea, or dry them for potential use in a dehydrator.
(Visited 27 times, 1 visits today)