I have experienced what happens when it comes to an emergency. The store shelves empty of all foods that don't need refrigeration, bottled water is the first to go, then shops and restaurants close, gasoline lines are extremely long until the tanks are empty and there is no gas to have. Most of the emergencies that I have faced have only lasted a week or two. But I know it will get worse, as storms get stronger and the evil of man prevails. I plan these events to protect my family, and hopefully comfortable.
My Food Storage Levels of Protection
My first level of protection is my pantry. Usually, I have food in the pantry and freezer for two to four weeks. These must be used first, especially when power isn't quickly restored.
I have a short-term supply when the pantry foods are finished which requires no refrigeration and is packed to be portable. These are the foods I take with me, if evacuation is necessary due to a disaster like hurricane, fire or other catastrophes. This is the 30 day supply that I'm packing away today.
Lastly, I got 5-gallon buckets of staples like rice, beans, sugar, corn, etc. These are packed into storage for 10 to 25 years. I prefer not to open them until they come close to their expiration, or until a long-term emergency is needed. There's no point in opening up several 5-gallon buckets when I need only one or two week of food.
As I'm in the process of restocking and reviewing my 30-day supply now, I thought I'd share with you my thoughts and preparations.
Easy Ways to Plan and Build a 30-Day Supply
Over the years, I've used various ways to plan a 30-day supply of foods. I planned 30 days of menus for several years, and bought all the foods needed to complete those meals. This ensured I had an adequate supply of food, but when the day came we did not always use the food in the manner I had planned. Now I choose a variety of foods that fit our eating habits and leave the day-to-day planning until it comes time to use it. Let 's talk separately about each food category, starting with proteins.
Proteins: Canned Meat, Freeze Dried Meats, Beans, and TVP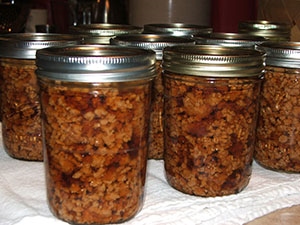 When you store proteins you have choices. It is beans which are the cheapest solution. If you don't know how to cook beans, or if your family doesn't eat beans, textured vegetable protein (TVP made from soy) is the next cheapest solution. Beans store well, but require a lot of cooking, so choose short-term canned beans when possible. I'm using them in long-term storage but I prefer meat for the first 30 days. Meat is the most costly choice but is generally well received by family members.
Related: 14 Must-Have Canned Foods You Didn't Know About
I store commercially canned meats but I can store home processed meats and frozen meats as well. Usually a one-pint meat jar is equal to a pound of meat and provides generous servings for four people. One case of home canned meats provides four people with one serving of meat per day, or two servings for two people. If you feed one or two people, you should probably use one-cup canning jars or small meat cans, as there may not be refrigeration. I'll use commercially canned meats in the planning section for the purpose of this article.
Starches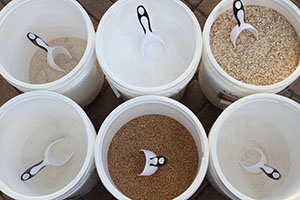 Starches are essential to provide the bulk, fiber, and appetite satisfaction. If you're gluten free, plan accordingly; there are plenty of options. I store rice, pastas, potato flakes, dried hash browns, grits, oatmeal, and cornmeal for short-term starches. Packages of cornbread mix, muffins, brownie mix, etc. can also be stored. Mixes are valuable because they are easy to prepare and require only water and, possibly, oil to make (Read the labels). If packed correctly, mixes will keep for several years. If you're selecting baking mixes, consider how you'll cook them. Making muffins or brownies requires some kind of oven, but when necessary they may be made in pancake form.
Fats
Fats are amongst the most overlooked food storage categories. They provide the calories that we need for hard work and it takes a small amount to lubricate our joints and other body functions.
For short-term storage, fats are easy but they must be rotated every year or two. When they are cheap, I buy my oils and lard in quantity, and use the oldest supply first. This keeps me stocked with sufficient fats to provide the family while keeping them fresh. Virgin or extra virgin coconut oil retains its proper storage indefinitely. They need to rotate olive oil every 6 months to a year.
Vegetables and Fruits
I prefer fresh vegetables straight from the garden but in my 30-day storage, I keep canned or dehydrated vegetables.
If my garden is wiped out by a hurricane, or if I evacuate, I need to know my family has a backup plan. In my short-term supply I store 60 cans of vegetables, and 30 cans of fruit.
Sauces, Spices, Coffee, Salt and Pepper
I'm also stocking my most used spices and sauces. Thirty days without salt in my house would have been a disaster. The same is true of coffee. When planning short-term food storage we often overlook these, mostly because a box of salt goes a long way. But if it runs out, then you'll miss it.
I store extra salt, black pepper, seasoned salt, paprika, dried peppers, Italian seasoning mix, taco seasonings, chili seasoning, apple cider vinegar, soy sauce, coffee, tea, sugar, and maple syrup in my short-term storage (Pure maple syrup has medicinal value, but you can also use the cheap stuff if you need to).
Related: My First Batch Of Canned Cheese
I include gravy mixes so that I have something to put on my rice, and a few pasta sauces for my pastas. I don't normally use these products, preferring fresh, homemade foods. But in an emergency I want to know that I don't have to eat plain rice.
My Shopping List for a 30-Day Supply of Meals for Three Adults
Breakfast Foods:
4 packages Muffin Mix, assorted flavors, 7 oz – 800 calories/pkg, 3200 Calories total
1 box Oatmeal, 32 oz – 3392 calories total
1 box Pancake Mix, 20 oz – 2,100 calories total
4 pkg. Hash Browns, 3 oz – 320 calories each , 1280 total
4 cans corned beef hash, 15 oz each – 774 calories each, 3096 calories total
4 boxes breakfast bars, 18 bars each – 11520 calories total
1 pkg whole milk powder, 2 pounds – 4,515 calories total
1 maple syrup, 16 oz – 1680 calories total
1 bottle vegetable oil, 32 oz – 7936 calories total
1 bottle ketchup, 32 oz – 932 calories total
1 canister Tang orange drink mix, 72 oz – 7980 calories total
47,629 calories total in the breakfast category
Meats
I plan for meat at lunch and dinner, which requires 60 cans of meat per month. Having beans and rice for some meals, or eating pasta and similar meals without meat could certainly reduce the cost. TVP makes meat an acceptable substitute but does not provide as many calories. In a true emergency situation, I feel we'll need the protein and calories.
Related: Food Storage: Knowing What You Have is More Important than Buying Something New
I home can most of my own meats, which saves a lot of money off this list. The calorie counts here are for commercial meats:
8 cans Roast Beef, 12 oz – 2240 calories total
8 cans chicken, 12.5 oz – 1260 calories total
8 cans salmon, 14.75 oz – 5,040 calories
4 cans tuna, packed in oil – 1280 calories
8 cans Ground beef, 14 ounce can – 4,480 calories total
8 cans pork, 14 oz each – 9600 calories total
8 cans ham, 16 oz each – 6400 calories total
4 cans Beef Chow Mein, 28 oz (includes vegs) – 960 calories total
8 cans Spam, 12 oz can – 8640 calories total
39,900 calories total in meats 
Vegetables and Fruits
I include 2 cans of vegetables per day and I hope to supplement from my garden. However, a hurricane can quickly strip every leaf from my garden, so cans in the cupboard are a must. I try to buy a balance of higher calorie starchy vegetables and low-calorie vitamin packed offerings. I also include 30 cans of fruit for a little sweetness at breakfast or dinner. Here is this year's list:
4 cans potato salad -1680 calories total
4 cans corn 16 oz – 840 calories total
4 cans carrots, 14.5 oz – 448 calories total
4 cans beets, pickled, 16 oz – 300 calories total
4 Green peas, 16 oz – 968 calories total
4 Sweet potatoes, 20 oz – 2520 calories total
4 Lima beans, 16 oz -1408 calories total
4 Green beans – 288 calories total
4 Canned tomatoes – 576 calories total
6 Pasta Sauce, 24 oz – 3300 calories total
4 Saurkraut, 16 oz – 210 calories total
4 Okra, 14 oz – 220 calories total
4 Stewed squash, 14 oz – 228 calories total
4 Mixed vegetables, 14 oz – 440 calories total
8 Mixed fruit, 15 oz – 840 calories total
4 Pear halves in juice – 992 calories total
4 Peaches in juice, 15 oz – 832 calories total
6 Jars applesauce, 16 oz – 1994 calories total
4 cans pineapple, 20 oz – 1260 calories total
4 cans cranberry sauce (also treats UTIs) 16 oz – 3334 calories total
22678 total calories in vegetables and fruits
Related: 13 Survival Foods You Should Always Have at Home
Starches
I plan for at least one starch per day, but I buy generous portions so that we can have more if needed. As these foods are cheap and filling,  I tend to overbuy. This way I can stretch my supplies if needed beyond the 30 days. You can purchase individual flavored side dishes for this category.
6 lbs. Pasta, assorted shapes and sizes – 11200 total calories
5 lbs. Rice – 8000 calories total
1 box dried mashed potatoes, 26.7 oz, complete – 2720 calories total
1 box cornbread mix, 16 oz – 1800 calories total
2 boxes biscuit mix, 60 oz – 16880 calories total
40600 calories total in starches 
Snacks
I rotate snacks through my 30-day supply, restocking it every few months and moving the old stock to the pantry. These high calorie foods help fill us up and are vitally important if I am unable to cook for a day.
granola bars – 36, 4320 calories total
dried fruit, 10 cups mixed – 4400
nuts, 48 oz – 7680 calories total
trail mix, 24 pkg – 6000 calories total
peanut butter, 16 oz – 3034 calories total
2 Brownie or cake mix, 18 oz – 4000 calories
Cookie mix, 21 oz – 1980 calories total
31,414 calories total in snacks 
Spices and Incidentals
Coffee, tea, sugar
Salt & Pepper
Seasoned salt
Paprika
Italian seasoning
Chili seasoning
Taco seasoning
Gravy mix
Vinegar
Soy sauce
Salad dressing mixes
These foods give me a total of 182,221 calories for 30 days for 3 people. That amounts to 2024 calories every day. Although I have calculated the list for convenience with commercial foods, many of my meats are home canned. Also the calorie intake assumes you split the whole can of food, ignoring the size of the serving on the can. I plan this way because I assume I won't have refrigeration so I use all the meat, vegetables or fruits at each meal.
Also I've tried to give a variety of foods, so we have choices, but the foods do repeat. This list is pretty expensive when you buy it all at once, but I use it for two years in my 30-day supplies, then rotate the food for use in my pantry. These are foods we enjoy although we usually do not eat canned foods every day.
(Visited 29 times, 1 visits today)