While store shelves and online stores have stock full of designer hiking and camping foods, there are the ones that can be made at home and that have become the test of time. The sugar nowadays, overpriced granola bars have all over the place taken the lead of hiking and survival food.
It is disappointing. We don't need someone else to make camping foods safe for us at our shelf. The recipes are basic and the methods are so crude they can be cooked right on rocks. This is the case with the Bannock that we are going to address in this post. To add to your arsenal it is an important food for survival.
Cited as far back as the "bannuc" of the 8th century was leavened bread made with oats or wheat flour and shaped into a bread which was then cooked, in that time, on a hot stone. This stone would be set right in the oven, and on the hot stone and in the heat of the fire the bannock would be "baked."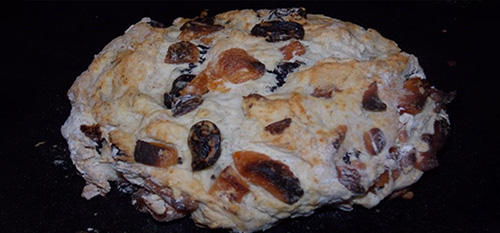 The bannock was often cut into wedges to feed more than one person upon completion. Such wedges were called scones which taste a lot better than their glazed equivalent south of Scotland. This has long been used as a food for life, and a food that could be carried on long journeys without spoiling this.
A bit of a debate is going on about how Bannock made his way to North America. Some historians believe the native peoples were using corn flour producing a similar style of food. Some say the Scots brought it here, and the settlers and people of Canada embraced it. Anyway, it was an early food for survival which helped both cultures get by.
The Selkirk Bannock was produced in the later part of the 1800's, and this featured dried raisins and resembled something similar to modern fruitcake. With the addition of dried fruits, you can produce the basic bannock and raise vitamin C levels. It provides a vitamin C-rich survival food and all the benefits that go along with it.
Related: How To Make Survival Dandelion Jelly with 2 Years Shelf Life
Bannock Recipe
4 Cups All-Purpose Flour
1/2 Teaspoon Salt
1/2 Teaspoon Baking Soda
1 Tablespoon Sugar
1 3/4 Cups dried fruits (I used raisins; apricots and cherries)
1 1/2 Cups Buttermilk or Sour Milk; reserve 1 tablespoon
Tools Needed

Mixing Bowl
Cutting Board
Sharp Knife
Whisk
Quick Buttermilk Hack
Before we get started I wanted to give you a little hack for making your own buttermilk at home. Some people think they have to go and buy buttermilk, but it is not necessary. The recipe is also great with regular milk.
Merely pour one cup of whole milk and add about a tablespoon of lemon juice or vinegar to the milk.
Simple Fireside Bannock
1. You will start with your dry ingredients, this is the flour, salt, baking powder and sugar. These ingredients need to be added to a large mixing bowl and whisk to combine.
After this, I prepped the dry fruit by lining it up and slicing it down a bit. After I made the recipe, I thought about cutting the fruit even smaller. You can go either way here. I imagine that on the trail a substantial piece of fruit will be more satisfying than a more eye appealing mince of fruit.

At this point, you want to add your butter milk and mix until it becomes stodgy. From here, you are going to add your fruit and turn that into the mix as well. Do not over mix. You are essentially making a big biscuit and you never want to over mix this type of dough or it will become hard and tough.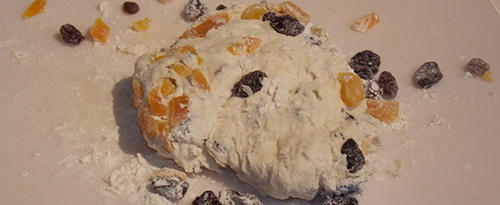 2. I used a conventional oven to prepare this bannock, but I did it on a "stane" or stone that I used to cook things like pizza and other breads. That is the traditional method for cooking bannock. Ideally you could take this dough mix and place it on a stone that could be heated on over the fire and surround the bannock with fire.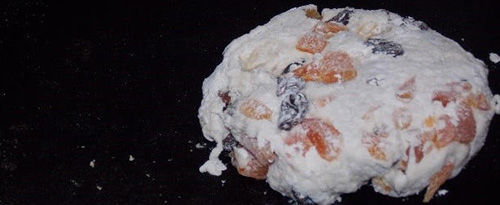 If you cook on stones beware, river stones that could have high moisture content can explode if heated. Its scary and not fun. Just make sure you are cooking on a dense, dry stone.
In a preheated oven I cooked the bannock for about 20 minutes until browned. If I were cooking this on a fire I would flip it after about 10 minutes depending on how big the fire was.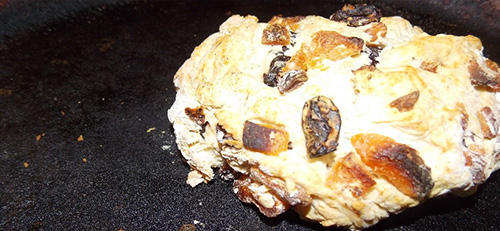 3. Always rest baked goods when they are finished cooking. The internal temperature is still rising and the cooking process is still going on.
4. Cut your bannock up in wedges and serve it or keep it whole while you travel.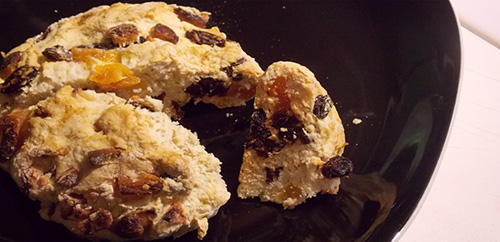 Integrating Bannock as a Survival Food
Bannock may become part of your ritual of precamping. I see this as a way of preparing for a hike. Until your next outing, you can cook and cool the bannock, and have it to call on while you're hiking.
By using dry milk instead of buttermilk, you can also prepare all the ingredients to make Bannock and only make the dough with water. I t is a perfect way to cook bannock at the campsite, over the flames. It helps you to shift the bannock from being a trail food to something at the end of a hike that you can cook up.
Because of the dried fruits mixed in the bannock, you will not only have a survival food that will supply you with carbohydrates, you will also get a dose of vitamin C to keep your immune system boosted. This is a value that can't give you stuff like hardtack, and even jerky.
As far as shelf life is concerned, you can get weeks out of your bannock as long as you keep it covered. You will get even more time from it depending on how queasy you are about mold! In a survival situation just slice the mold off this effective survival food.
(Visited 66 times, 1 visits today)