Look At Eddie Hall's Insane Body Transformation Over The Past Two Years – BarBend
Professional strongman Eddie Hall just uploaded a before and after photo highlighting his weight loss journey that has taken place over the last two years. After dropping nearly 70 pounds and a considerable amount of body fat, the 2017 World's Strongest Man is now discussing just how much it took to maintain his 2017 physique and how tough it was on his body at the time.
In Hall's Instagram photo's description he wrote, "What a difference a couple of years can make on the left around 196kg / 31.5stone and on the right around 165kg / 26stone. Both I'm very proud of but my insides are thanking me for losing the weight and getting fit again for sure now!!! How did I do it????"
His transformation is really impressive, especially given how much muscle he's maintained, and it's something that has had the media's attention for quite some time — there were even rumors he was photoshopping his new body, rumors he swiftly denied.
In 2018, Hall was averaging losing around two pounds per week and weighed in around 164 kilograms, or 361.5 pounds. This was 70 pounds, or more than 31 kilos lighter than when he won the World's Strongest Man in 2017. And while he is weighing in almost exactly the same now, a year later, he looks more defined, and comfortably lean.
When Hall was his heaviest, he weighed 433 pounds. Last year, during his weight loss journey he said "Jeeze I wouldn't wish that torture upon anyone." Hall didn't just need to lose weight for health reasons, he also wanted to. He's been actively promoting a healthy lifestyle through his various social media channels.
In an interview with Express that he gave two months ago, he went into more detail on the toll his weight took on him.
I knew that I was pushing the boundaries. I knew that I was basically risking my life with all the health factors – it's very unhealthy being that big. So, I decided to take a step down from that sort of professional side of strongman. To lose a load of body weight, get fit, get healthy, and basically I just jiggled by diet around.
He also added that at the time he had basically cut out all carbs, following an "all-protein, all-fat" diet that he was combining with five or six hours of cardio per week comprised of boxing, swimming, and cycling.
"I feel really good at this weight," he told Express. "I've got a six pack and I'm quite happy to stay at this, until I get a bit older [in his late 40s and 50s], when maybe I'll have to reduce the weight a little bit more."
He also posted a video this spring where he discussed his own battles with mental health, and what he has done to overcome his personal struggles. Here's an anecdote at 20 minutes into his video where he talks about three little words that have shaped him.
"The only thing that got me through life was goal setting, that's whats got me through so far. Sink or swim, those three little words can make such a big difference in people's lives. Sink and dwell and hate the world and blame everyone else, or you swim, you set goals, you move forward and you do great things in life."
[embedded content]
Sink or swim, Hall chose to swim. We're looking forward to seeing how his physique and performance progress.
Feature image from @eddiehallwsm Instagram page.
Love Island's Jack Fincham shows off body transformation – Entertainment News from Xposé – Virgin Media Television – virginmediatelevision.ie
20th May 19 | Entertainment News
The reality TV star said he wanted to get healthy.
Love Island's Jack Fincham said he is feeling "strong and healthy" as he showed off his recent weight loss in a series of dramatic before and after pictures.
The reality TV star said he did not care that he didn't share the same honed physique as many of his fellow Love Islanders but decided to embark on a new diet and fitness regime to be more healthy.
"For me, getting fit was about getting healthy, it wasn't really about the way I looked," he said.
"I was never bothered that I didn't have the ribbed abs like the other lads on Love Island but I was bothered when doctors told me I was clinically obese."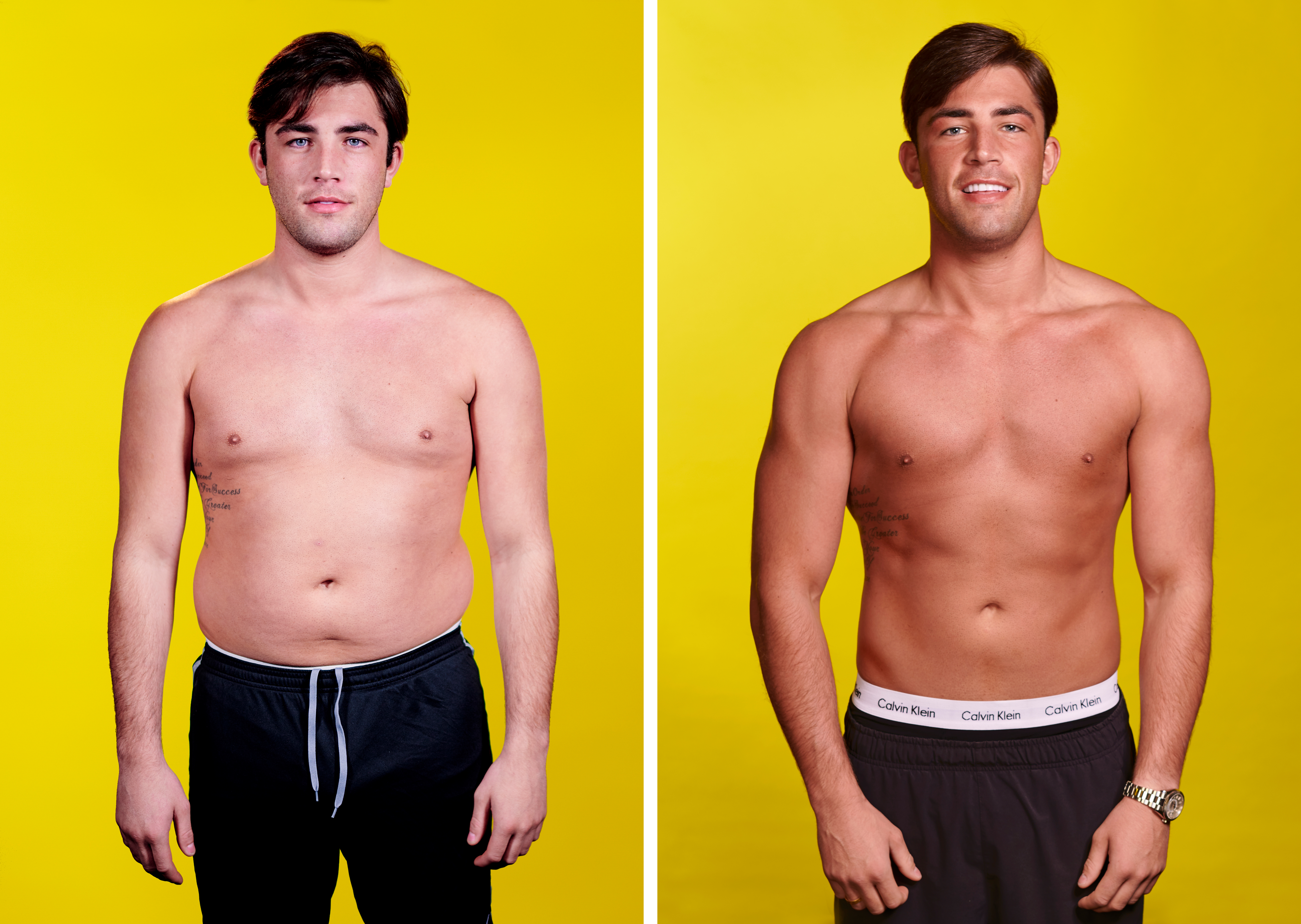 The star – who split from his Love Island girlfriend Dani Dyer in April – said he feels "strong and healthy in both my body and my mind" after losing more than two stone.
Discussing whether he was now getting more female attention, Fincham said: "To be honest I haven't paid much attention!
"I've got a bit more I suppose and people have complimented me on my transformation.
"I've just been focused on feeling strong and continuing my training."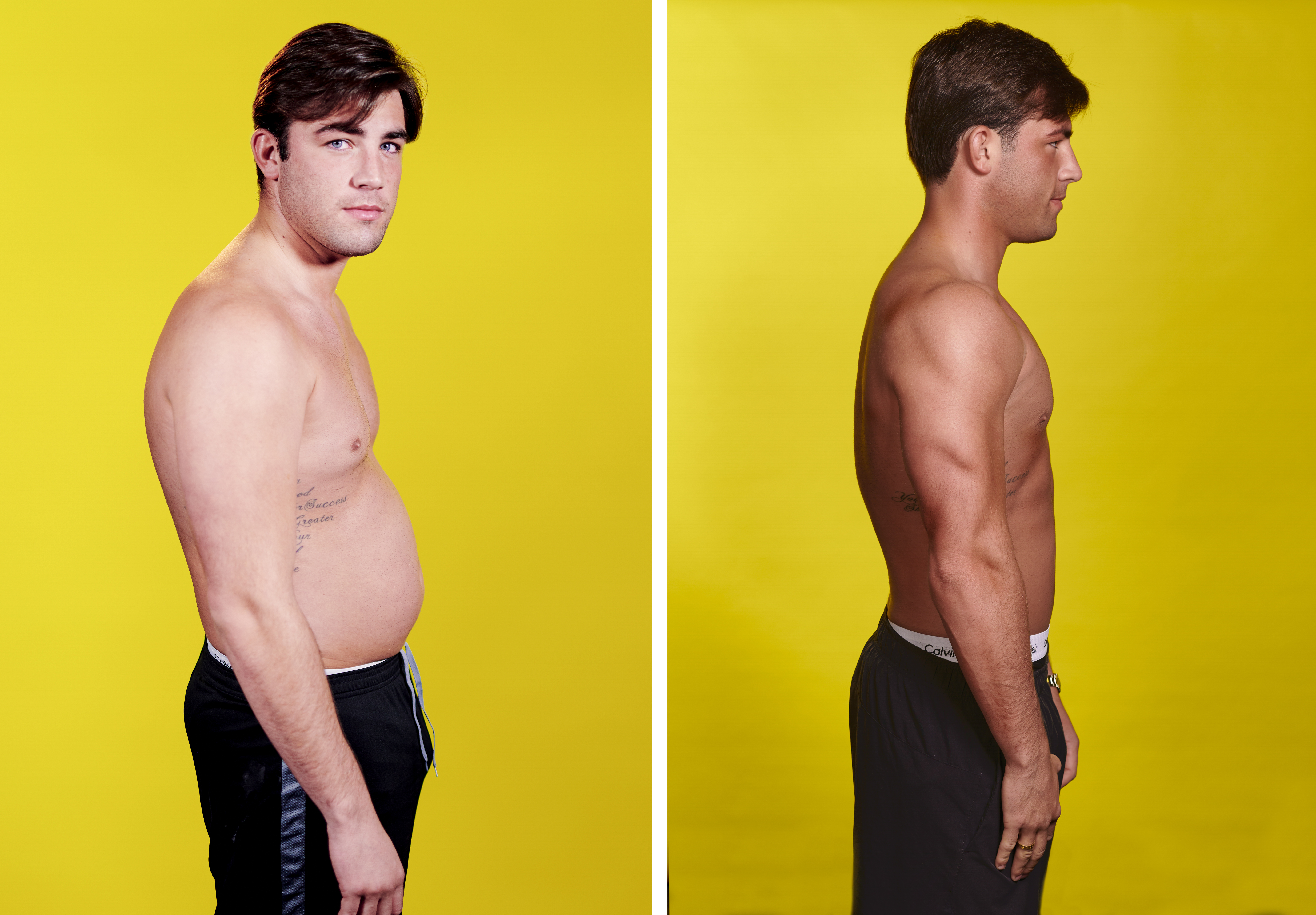 – Fincham has partnered with Protein World, using the four-week Slender Plan.
© Press Association 2019
Love Island's Grant Crapp shares body transformation – Daily Mail
My, how you've changed! Love Island's Grant Crapp, 23, shares epic throwback of his younger self without his bulging biceps and six-pack abs
He's no stranger to posting near-naked photos of his buff frame to Instagram.
And on Thursday, former Love Island Australia star Grant Crapp revealed just how far he's come with his physique.
The 23-year-old compared a throwback of himself in his younger years without his bulging biceps and six-pack abs, to a current day snap.  
My, how you've changed! Love Island's Grant Crapp, 23, shared an epic throwback of his younger self, without his bulging biceps and six-pack abs, to Instagram on Thursday
In the throwback, Grant is pictured outside, and goes shirtless in just a pair of blue workout shorts. 
His frame is remarkably smaller and noticeably missing is his signature six-pack abs and muscular arms.
In the current day photo, the tradesman takes a mirror selfie, and wraps a white towel around his frame.
The influencer beams in the snap captioned 'Big Grant' and is clearly proud of his bulging biceps, defined pecs and chiseled torso.   
Confident: The tradesman is no stranger to posting near-naked photos of his buff frame to Instagram
Cashing in: Since starring on last year's season of Love Island Australia, Grant often promotes fitness-related products online 
Since starring on last year's season of Love Island Australia, Grant has landed a number of fitness endorsement deals.
He regularly takes to Instagram to plug protein powders and hair removal products.
In October last year, it was exclusively revealed by Daily Mail Australia that Grant was trying to cash-in on his newfound fame and impressive physique.  
Despite splitting the $50,000 cash prize won on Love Island with Tayla Damir, a source close to Grant revealed he was trying to turn his fame into cold hard cash.
'He's available to do everything and almost anything – only catch it has to be legal,' the source said at the time. 
Looking to the future: Grant found love with Tayla Damir on Love Island, but has since rekindled a romance with ex Lucy Cartwright (pictured) 
Tyson Fury posts image of Billy Joe Saunders' incredible two-month body transformation – GIVEMESPORT
Tyson Fury has posted before and after pictures via Instagram of Billy Joe Saunders, highlighting the colossal effort his close friend has made throughout his latest training camp.
The Hertfordshire-born Southpaw will aim to become a two-weight world champion this Saturday night when he faces Serbian-born German Shefat Isufi for the vacant WBO super middleweight title at Stevenage's football ground, the Lamex Stadium.
Isufi (27-3-2) is currently on a 10-win streak, and will look to put the first blemish on Saunders' (27-0) undefeated record.
Last year, the 29-year-old vacated his WBO middleweight title after testing positive for Oxilofrine, a substance banned in Massachusetts where his title bout against Demetrius Andrade was scheduled to take place.
Saunders' wallet also took a substantial hit in the last 18 months after some immature behaviour in his personal life arose via social media. He was fined by the British Boxing Board of Control to the tune of £100k.
A chance for redemption awaits this weekend for Saunders and 'The Gypsy King' wanted to underline the extraordinary progress his close friend has made over the past three months with an uplifting Instagram post.
"@saundersbillyjoe just want to say how proud I am to know a legend like you! You have become the man I always thought you would be! Soon to be 2 weight 2x world champion."
Fury will make his ESPN debut on June 15 when he takes on unheralded German heavyweight Tom Schwarz in Las Vegas.
The giant Mancunian views the clash as simply a warm-up for a potential blockbuster at the end of the year.
Last week, WBC president Mauricio Sulaiman revealed that Fury has been instructed to face Dillian Whyte to decide Deontay Wilder's next mandatory challenger.
Should the mouthwatering all-British fight of Fury v Whyte go ahead, it could be 'The Gypsy King's' penultimate chance to thrill the boxing world after the 30-year-old hinted at an early retirement from the sport after his next three fights.