CVS will now require third-party testing of supplements. Is it enough? – Fast Company
The pharmacy chain had 1,400 supplements verified to ensure the accuracy of listed ingredients–but that doesn't necessarily mean the products are effective.

CVS Pharmacy wants to offer a bit more clarity when it comes to navigating the supplement aisle. On Wednesday, the retail division of CVS Health unveiled "Tested to Be Trusted," a new program requiring third-party testing of all vitamins and supplements sold in-store and online.
Starting this month, supplements will be verified to ensure the accuracy of listed ingredients as well as to confirm they are free of certain harmful additives. In total, the giant pharmacy retail chain sells 1,400 vitamins from 152 brands, spanning 11 categories like diet and pain relief.
Supplements notoriously lack the more rigorous regulations afforded to pharmaceutical drugs, sometimes veering into snake-oil territory. In 2015, the New York Attorney General's office found that a strong percentage of dietary supplements contain suspicious ingredients not listed on the label. This past February, the FDA announced plans to strengthen oversight of the supplement market and its "potentially dangerous products."
"[Consumers] wonder, how do I know that what they say is inside them is inside them? It makes them kind of hesitant," says Norman de Greve, chief marketing officer for CVS Health. "What we're trying to take that risk off of consumers' minds."
Currently, CVS Pharmacy is the only national retailer implementing regulations requiring third-party standards for supplements. So far, 7% of the supplements failed testing requirements, meaning their labels were updated or the products were pulled from shelves.
---
Related: What happened when I took a brain-boosting herbal supplement for a month
---
Supplements are now a booming $128-billion industry flush with newcomers like Goop, Brandless, and Hims. Fashion stores, pharmacies, even Sephora now sell "trendy" supplements that claim to fix issues relating to beauty, digestion, and hair growth.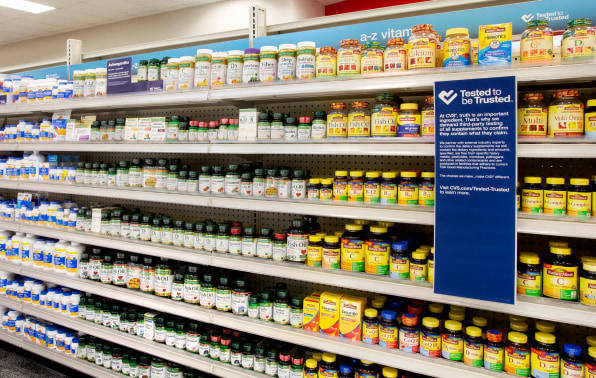 Strong consumer interest led CVS Pharmacy to add 300 more supplement items, specifically those targeting nutrition, cognitive function, mood, sleep, and skin. Their customers–both old and young–requested a more expansive supplement inventory. It's a macro-shift in self-care that sees the general consumer investing in their own health.
"You've got 70-95% of all illnesses managed without a doctor, so people are taking things into their own hands," says de Greve. "We want to make it easier for them."
Roughly 75% of U.S. adults take dietary supplements, according to the CRN Consumer Survey on Dietary Supplements. Adult supplement use increased by 10% over the past decade, despite fierce debate over whether the majority of supplements fulfill their claims. Efficacy has long troubled researchers, nutritionists, and the medical establishment. In one recent study, researchers compared clinical trials over five years to determine whether regular vitamin intake improves one's overall health and well-being. In evaluating multivitamins, as well as vitamin C, vitamin D, and calcium supplements, "none had a significant effect."
CVS Pharmacy will ensure the safety of supplements, though that doesn't mean it will verify quality or efficacy. The company doesn't see that as their role; instead, it simply wants to be the more secure avenue for customers to explore their health options. "The first thing you have to do is follow what consumers are doing and what consumers are telling us they want," de Greve says." Whether those pills do anything? That's another story.
"We want to make sure that there's choice for the consumers," he adds. "And if there are homeopathic remedies that some consumers value, then we want to make sure that those are available and we follow the FDA compliance policy under which those products can be sold."
Consumers are increasingly drawn to homeopathic and nonconventional remedies, with two-thirds of Americans viewing alternative therapies as safe (69%) and effective (63%). But there are also those who criticize the mainstream legitimization of seemingly unverified supplements. Last year, the Center for Inquiry filed a lawsuit claiming CVS fraudulently deceived customers by selling "sham" homeopathic remedies. It took issue with the retailer, for example, suggesting homeopathic products for flu treatment on its website.
CVS Pharmacy concedes there is debate as to whether claims made by supplement makers are accurate but insists it does due diligence, going so far as to check customer ratings and reviews for specific products.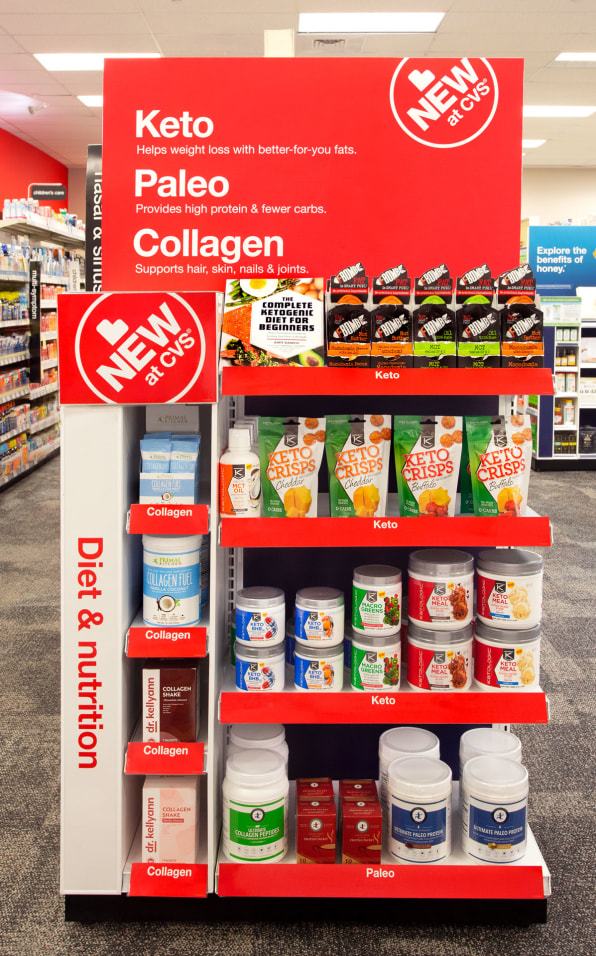 CVS Pharmacy's distinction as a reputable supplement provider sets it up to better compete in the $4.2-trillion wellness industry. The company spent the past year half analyzing trends and sourcing new products that one might not generally associate with a pharmacy. The CVS HealthHub locations now sell yoga mats, fitness jump ropes, aromatherapy, and Himalayan rock salts. They also offer guided meditation classes.
CVS, one could say, is becoming more Goop-ey.
"What we're trying to do is make sure that consumers see CVS as a place that they can trust to discover new products to help with self-care," says de Greve, echoing a long-held stance by none other than Gwyneth Paltrow.
Whereas consumers might have once thought the retailer was the go-to for a cold medication or tissues, they might soon come to think of it something a bit broader. Something that, much like wellness, encompasses a little bit of everything. CVS no longer solely focuses on drugs; it's candles, bath bombs, exercise equipment, and everything you might need to feel better in a modern world.
At the same time, the retailer has taken bold steps to cement its consumer health reputation. Parent company CVS Health now offers virtual health appointments for minor illnesses (such as coughs or colds), injuries, and skin conditions. It also banned potentially harmful ingredients from nearly 600 beauty and personal care products and no longer sells tobacco products or SPF under 15. More recently, it was named a 2019 Most Innovative Company for its Beauty Mark initiative, which set new industry standards for postproduction alteration of beauty imagery.
The company "crushed" first-quarter expectations, with its stock price jumping 4%, according to CNBC.
"People historically thought of CVS as the corner drugstore. We're trying to transition into a destination for health and wellness," says de Greve. "We make it easier for people to engage in what they want to do–and that should drive more demand for our store."
Collagen supplement use growing in popularity, improves skin, hair and nails – WXYZ
There are so many options when a person goes into a supplement store, from vitamins to minerals and protein powders and more.
The latest one to grow in popularity? Collagen.
At Supplement Giant, owner Adam Watts says collagen powder is a popular product.
"Collagen is actually the most abundant amount of protein in our body," Watts said.
Collagen represents 30 percent of a human body's protein content.
"It's found in animal bones ligaments and tendons again not traditionally part of our diet anymore," he said.
Most brands sell collagen as a great supplement to take to improve a person's hair, skin, fingernails, and bone and joint health.
"If you have a deficiency of collagen in your skin it can decrease you skin health which can cause stretch marks, dark spots, infections," Watts said.
He suggests people age 30 and older take a collagen supplement.
"After the age of 30, collagen decreases by 1 percent, so by the time you're 50, you've lost 20 percent of your collagen," he said. "If you have injuries, collagen is going to help and repair tissue."
Registered Dietician Jessica Crandall Snyder said she recommends food as medicine, not supplements.
"Being active on a daily basis you are actually helping to re-synthesize your collagen," she said, "So supplemental sources from protein powders may not be the way for you to get adequate nutrition."
While Adam Watts sells collagen powder at whole sale, other stores start the product at $25 per container.
But eggs, wild salmon, tomatoes, pumpkin and chia seeds are affordable foods that aid in collagen production.
The experts say collagen powder works, but make sure it's not your main source of protein.
CA Permit Sale of Hemp-Derived CBD in Foods & Supplements – The National Law Review
California Assembly Bill 228 would expressly permit the retail sale of hemp-derived CBD in foods and supplements in California, notwithstanding the Food and Drug Administration's position to the contrary. On Thursday, May 16, 2019, AB-228 passed through the State Assembly's Appropriations Committee with a unanimous 18-0 approval. The Bill, sponsored by Assembly Member Cecilia Aguiar-Curry (District 4), moves to the House floor where a two thirds vote is required for it to continue on to the Senate for approval. 
AB-228 is intended to address the guidance offered by the California Department of Public Health (CDPH) in July 2018, which prohibits hemp-derived CBD from being added to foods. The CDPH's release provides: 
California incorporates federal law regarding food additives, dietary use products, food labeling, and good manufacturing practices for food… Currently, the United States Food and Drug Administration (FDA) has concluded that it is a prohibited act to introduce or deliver for introduction into interstate commerce any food (including any animal food or feed) to which tetrahydrocannabinol (THC) or CBD has been added. This is regardless of the source of CBD – derived from industrial hemp or cannabis. 
While manufacturing and retail sales of marijuana-derived CBD products are permitted in accordance with California's cannabis regulations, hemp-derived CBD remains unapproved for use as a food ingredient, food additive or dietary supplement. 
The City of Los Angeles took a similar position when its Department of Public Health, Environmental Health, which regulates food operators, issued the following guidance: "use of industrial hemp derived products in food will be considered adulterated and cited by DPH-EH as a violation resulting in a deduction of two (2) points on the official inspection report." The Los Angeles guidance becomes effective on July 1, 2019. 
In response to the FDA's position, California would join multiple states, including Colorado and Illinois, that have released policies allowing hemp-derived CBD in foods. AB-228 provides that "the sale of food or beverages that include hemp or cannabinoids, extracts, or derivatives from industrial hemp shall not be restricted or prohibited based solely on the inclusion of industrial hemp or cannabinoids, extracts, or derivatives from industrial hemp. 
Though legalization at the state level does not preclude FDA enforcement, AB-228 would provide California defendants with an affirmative defense in civil court to unlawful adulterant allegations regarding CBD products. AB-228 also would allow hemp-derived CBD product sales by licensed cannabis businesses and declare that industrial hemp and its derivatives are an agricultural product. 
If the California House of Representatives passes AB-228, it will move on to the Senate where it must receive support by an assigned Senate committee before being placed on the Senate floor for a vote. If approved by the Senate, AB-228 will be delivered to Governor Newsom for final approval.
Warning: Avoid dietary supplements from these 12 companies – ActionNewsJax.com
In the quest to be healthy, dietary supplements continue to be a popular option with some people but the U.S. Food and Drug Administration's recent warnings to companies hawking such products should cause potential customers to proceed with caution.
The agency recently sent out warnings to several companies that it said did not adhere to government guidelines on dietary supplement claims and their purported benefits.
FDA warns 12 companies over dietary supplement claims
Three of the companies ran afoul of the law by making claims about phenibut, which is sometimes marketed as a sleep aid. According to the FDA, phenibut does not meet the statutory definition of a dietary ingredient.
The FDA also issued nine warning letters to companies marketing DMHA (Dimethylhexylamine or 2-aminoisoheptane) as an ingredient in numerous dietary supplements.
In April 2019, the FDA determined that DMHA, which is often marketed for weight loss and sports performance, is either a "new dietary ingredient" for which the agency has yet to receive the mandatory New Dietary Ingredient notification or is "an unsafe food additive."
The violations ultimately mean that American consumers may be buying and using products that are not approved for consumption. It also means the remedial claims of the products are as of yet unproven.
On the FDA's website, a dietary supplement is defined as "a dietary ingredient as a vitamin; mineral; herb or other botanical; amino acid; dietary substance for use by man to supplement the diet by increasing the total dietary intake; or a concentrate, metabolite, constituent, extract, or combination of the preceding substances."
But then there is this major distinction: "Unlike drugs, supplements are not intended to treat, diagnose, prevent, or cure diseases. That means supplements should not make claims, such as 'reduces pain' or 'treats heart disease.' Claims like these can only legitimately be made for drugs, not dietary supplements."
Here are the FDA warning letters to the 12 companies
Warning Letters (DMHA):
Warning Letters (Phenibut):

Do you use dietary supplements? If so, do these warnings concern you at all? Let us know in the comments below!

The post Warning: Avoid dietary supplements from these 12 companies appeared first on Clark Howard.